Use this free downloadable CSI 3-part specification to specify MI-100 (electric trap seal primers) Domestic Water Piping Specialties by MIFAB.
Why are Trap Seal Primers needed in a plumbing system?
Trap seal primers are a necessity where floor drains are infrequently used, like mechanical and service rooms. Evaporation of water in floor drain traps allows sewer gas, pests and bacteria to enter the interior of the building.
Trap Seal Primers are installed on a cold water supply line, and react to water flowing in the line to trigger, either by turbulence or pressure drop. Once a triggering event occurs, the primer will release water that is piped to a trap primer connector on or near the "P" trap being maintained.
How do I pick the right one?
There are four main types of trap seal primers, so it is important to know the differences between them as they each have their advantages and disadvantages. You want to make sure you pick the Trap Seal Primer that will meet your needs.
The four main types are:
1. Continuous Flow
2. Pressure Drop Activated
3. Flush Valve Operated
4. Electronic – MI-100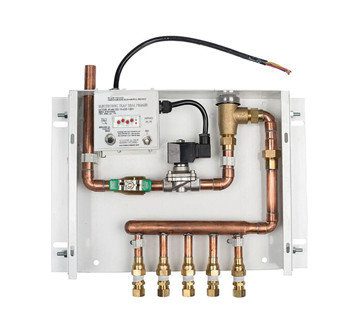 MIFAB Inc. Series MI-100.
The MI-100 series is a pre-assembled electronic trap seal primer system programmed to maintain the water seal of floor drain traps. Constructed of an ASSE approved vacuum breaker, solenoid valve operated by a timer, shut off valve for maintenance.
It's a "Buy American" compliant, packaged type, wall mounting, electronic, automatic trap primer manifold.  Certified to be UPC lead-free, factory tested and certified to ASSE Standard 1044, IAPMO listed.
Mounted 12-inches above the finished floor for every 20-feet of water supply line.  Serving a minimum of 2 ounces of water to each connected drain trap every 24 hours.  Operating at pressures of 35 to 80 psi, sized and selected to the number of drain traps to be serviced.
The manifold allows for equal distribution of water to all ports.  It's the perfect solution to keep sewer gas from entering the building from seldom used floor drains.
A timer and stainless steel solenoid valve are located anywhere in the water supply to allow the building owner to adjust the frequency and amount of water delivery.
The system is capable of priming from 1 to 30 floor drain traps. Perfect for water delivery to floor drain traps in infrequently used buildings such as convention centers and sports facilities.
To learn more about MI-1oo series, please visit (link)
For assistance on the use of the products in this section, contact MIFAB by calling 1-800-465-2736 or visit their website www.mifab.com
Related MIFAB Sections: 
22 11 19 – Domestic Water Piping Specialties (backflow preventers)
22 13 18 – Drainage and Vent Piping Specialties (floor drains, trench drains, and drainage pipe floor cleanouts)