For anyone new to construction, it may seem like commercial design and construction teams speak a different language.  Unlike residential projects, commercial specifications are constantly being referred to by a division, section, or title during the design and construction of a project.  The terminology is consistent from state to state and from site to site.  This wasn't always the case.  
In the first half of the 20th century, communication on construction specifications was inconsistent from project to project.  California projects might specify concrete in Section 8A, while Section 32 defines the same scope in Texas.  Locating information was troublesome, confusing for trades, and time-consuming for the entire industry.
That all changed when a group of engineers from various US government agencies created an informal think tank in 1947.  The objective was to discuss how to standardize information, communication among all parties, and a uniform specification system.
Construction Specifications Institute (CSI)
After World World II, the engineer's think tank grew into what we know today as the Construction Specifications Institute (CSI) in 1948.  An industry-wide organization with a primary goal of advancing specifications into a numbering system and developing a systematic approach to organizing construction documents and standardizing forms.
In 1963, CSI Format for Construction Specifications was released, a numbering system with titles for organizing construction information into significant work divisions.  The original release contained 16 Divisions, with each Division subdivided into several Sections, managed by a five-digit numbering sequence and corresponding title.  A standard way of organizing information from project to project.  Example: Division 9 – 09650 Resilient Flooring 
In 1978, the name MasterFormat was used in a CSI publication, and thus the new name was born.
In construction, most of us remember using the 16 Division publication, MasterFormat 1995 edition.  Before the internet, MasterFormat was distributed in paperback.  If you research the old format, it looked something like this: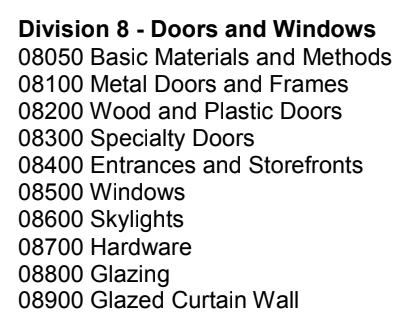 Today, many refer to MasterFormat as the "Dewey Decimal System" for organizing products and assemblies.  It promotes standardization and facilitates information retrieval and communication among all parties involved in commercial construction projects.
The standard lingo we all use today was born from was born out of a think tank of engineers!
CSI MasterFormat Divisions (Current) 
In 2004, CSI MasterFormat was expanded from 16 Divisions to 50 Divisions, with each Section growing from five-digit into a six-digit numbering sequence and corresponding title.  CSI no longer supports the old MasterFormat 1995 – 16 Division and five-digit numbering; however, we continue to see comparison publications nearly 20 years later.
MasterFormat 1995
Example: Division 09 – 09650 Resilient Flooring 
MasterFormat 2004
Example: Division 09 – 09 65 00 Resilient Flooring
The expansion allowed CSI MasterFormat to adequately cover construction industry subject matter while providing additional space for more subjects at each classification level, plus adding infrastructure and process equipment.  The older MasterFormat 1995 edition, using 16 Divisions, ran out of space to adequately address topics, and the lack of space often resulted in the inconsistent classification of information. 
The new six digits Sections arrange the digits into three sets of paired numbers, one pair per level.  Paring the numbers allowed for more subdivisions at each level.  The expanded six-digit Section numbers and titles sequencing facilitates better retrieval of information and improved communication among all design and construction parties involved in commercial and industrial construction projects.
Example:
– 07 50 00 – Membrane Roofing 

– 07 51 00 Built-Up Bituminous Roofing (Level 2)

– 07 51 13 Built-Up Asphalt Roofing (Level 3)

– 07 51 13.13 Cold-Applied Built-Up Asphalt Roofing (Level 4)
As products evolve and innovations are released, CSI MasterFormat updates every two years.  It has grown to 7,300 sections; however, the 50 Division structure remains the same.  
At first glance, CSI MasterFormat offers a massive number of section numbers and titles.  This allows for CSI MasterFormat to organize project manuals and detailed cost information and relates drawing notations to specifications.  It's common only to see project specifications limited to 100 to 350 sections.   Meaning that not every section will be used on a project.  
The latest 2018 edition of MasterFormat includes changes and enhancements made for 2018 Edition and replaces all previous updates and editions.  It is produced jointly by the Construction Specifications Institute (CSI) and Construction Specifications Canada (CSC).
The 50 Divisions are as follows:
PROCUREMENT AND CONTRACTING REQUIREMENTS GROUP
Division 00 — Procurement and Contracting Requirements
SPECIFICATIONS GROUP
General Requirements Subgroup
Division 01 — General Requirements
Facility Construction Subgroup
02 — Existing Conditions
03 — Concrete
04 — Masonry
05 — Metals
06 — Wood, Plastics, and Composites
07 — Thermal and Moisture Protection
08 — Openings
09 — Finishes
10 — Specialties
11 — Equipment
12 — Furnishings
13 — Special Construction
14 — Conveying Equipment
Facility Services Subgroup:
21 — Fire Suppression
22 — Plumbing
23 — Heating, Ventilating, and Air Conditioning (HVAC)
25 — Integrated Automation
26 — Electrical
27 — Communications
28 — Electronic Safety and Security
Site and Infrastructure Subgroup:
31 — Earthwork
32 — Exterior Improvements
33 — Utilities
34 — Transportation
35 — Waterway and Marine Construction
Process Equipment Subgroup:
40 — Process Interconnections
41 — Material Processing and Handling Equipment
42 — Process Heating, Cooling, and Drying Equipment
43 — Process Gas and Liquid Handling, Purification, and Storage Equipment
44 — Pollution and Waste Control Equipment
45 — Industry-Specific Manufacturing Equipment
46 — Water and Wastewater Equipment
48 — Electrical Power Generation
Are you a building product manufacturer?  Check out our blog post on the specification for building product manufacturers.